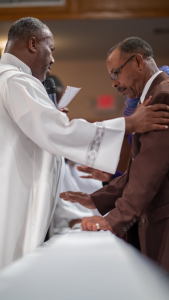 Greetings and Welcome to Saint Mark!
We are delighted that you stopped by to bear witness to the wonderful ways God is moving in this church. Founded in 1914, Saint Mark African Methodist Episcopal Church is recognized as one of the cornerstones of faith in the Central Florida community and looks to God as we continue Building Families for Christ.
At Saint Mark, our doors are wide open to people from all backgrounds, regardless of where they are on their spiritual journey. Our goal is to Build Families for Christ through powerful worship services that offer biblical truths and practical application to everyday life.
No matter what you believe, we encourage you to come and experience God's love at Saint Mark. Thank you for visiting our site. We look forward to seeing you soon.
The Mark On the Map

ONE Church TWO Locations!!!

Saint Mark AME Church – MAIN Campus

1968 Bruton Boulevard
Orlando, FL 32805

Saint Mark AME Church – EAST Campus

Waterford Lakes Elementary School
12950 Lake Underhill Road
Orlando, FL 32828

(407) 422-6941 Phone
(407) 841-0307 Fax

Worship with us

Main Campus

9:30 am

9:30 am – Streaming Facebook Live & YouTube

Saint Mark EAST Campus

10:00 am

EAST Campus Worship via Zoom

Upcoming Live events

Live Streaming of Worship Services
9:30 AM  – Main Campus
10:00 AM – East Campus       

»Click Here to View Live Streaming Services  MAIN CAMPUS

»Click Here to View Live Streaming Services  EAST CAMPUS