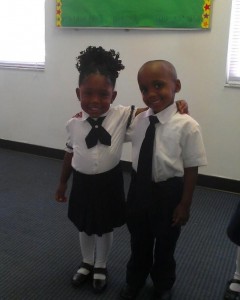 Hello and Welcome to Saint Mark Children Enrichment Center!
Dear Parents,
Welcome to Saint Mark Children Enrichment Center. It is a tremendous joy for us to partner with you in providing a quality education in a safe learning environment that supports every child's individual growth. The Children's Enrichment Center utilizes a curriculum which provides age appropriate and academically engaged materials designed to develop problem-solving and critical-thinking skills from a very young age. Our Instructors further enhance their students' academic experiences in the classroom by introducing large and small group activities that build upon skills necessary for reading and math.
Our students receive instruction that is Christ-centered; they learn how to succeed from a Christian perspective in a multi-cultural world. In the summer of 2012, our Enrichment Center opened a new outdoor playground facility designed to provide extra-curricular activities and physical exercise through supervised play.
Our classes are arranged in Learning Centers which have been purposely designed to stimulate the natural curiosity in children. Each Learning Center features a theme and activities that will spark a child's interest in learning. Our Instructors take an individualized approach in their introduction of new ideas and concepts.
Our Learning Centers provide students the opportunity to choose which theme or activities are of interest to them. Learning Centers may vary by age group but most classes will include the following centers:

Art
Music

Math

Science

Manipulative

Sand & Water

Blocks
Literacy
Writing
Dramatic Play
Housekeeping
 We begin the day with Breakfast to nourish the mind and body. Morning and afternoon snacks are also provided, as well as a nutritious hot lunch prepared daily by staff culinary specialists.
 Saint Mark's Children Enrichment Center Programs
Infant Program

Infancy is a time of vast cognitive and motor development. Our Instructors at the Enrichment Center are educated and trained to nurture your child through this amazing process. Each Instructor in the infancy program will have three infants in his or her care. This will allow your infant to receive the one-on-one time he or she needs. Cribs will only be used for napping and infants receive lots of nurturing playtime that includes story time, floor play and music.

Toddler Program

Toddlers are nature's great explorers, and the Instructors at the Enrichment Center have the experience to channel this natural curiosity into learning opportunities that promote growth in all developmental areas. With our free-flow classroom and low teacher: child ratio of 1:4,  for children 12 – 24 months, and 1:6, for children over 24 months,  your child will have room to explore and receive the attention that a growing toddler thrives on.
 Preschool Program

Our VPK (Voluntary Prekindergarten Education Program (VPK) is a FREE educational program created to prepare every four-year old in Florida for kindergarten. The Enrichment Center utilizes a curriculum approved by the State of Florida – Department of Education for early learning benchmarks. Our students benefit from experienced Instructors educated on teaching techniques designed to build a strong academic foundation for learning.

 

On the Map

Saint Mark Children's Enrichment Center

4055 Covington Street
Orlando, FL 32811

(407) 841-3711 Phone
(407) 841-3799 Fax

Hours of Operation

Monday – Friday

6:30AM – 6:00PM

Please call us to schedule an appointment to view our facility.

Contact: Imarii Freelove, Director

407-841-3711 ext 32; fax 407-841-3799