I AM H.E.R. Women's Conference
When:
March 29, 2019 – March 31, 2019
all-day
2019-03-29T00:00:00-04:00
2019-04-01T00:00:00-04:00
Where:
Saint Mark
1960 Bruton Blvd
Orlando, FL 32805
USA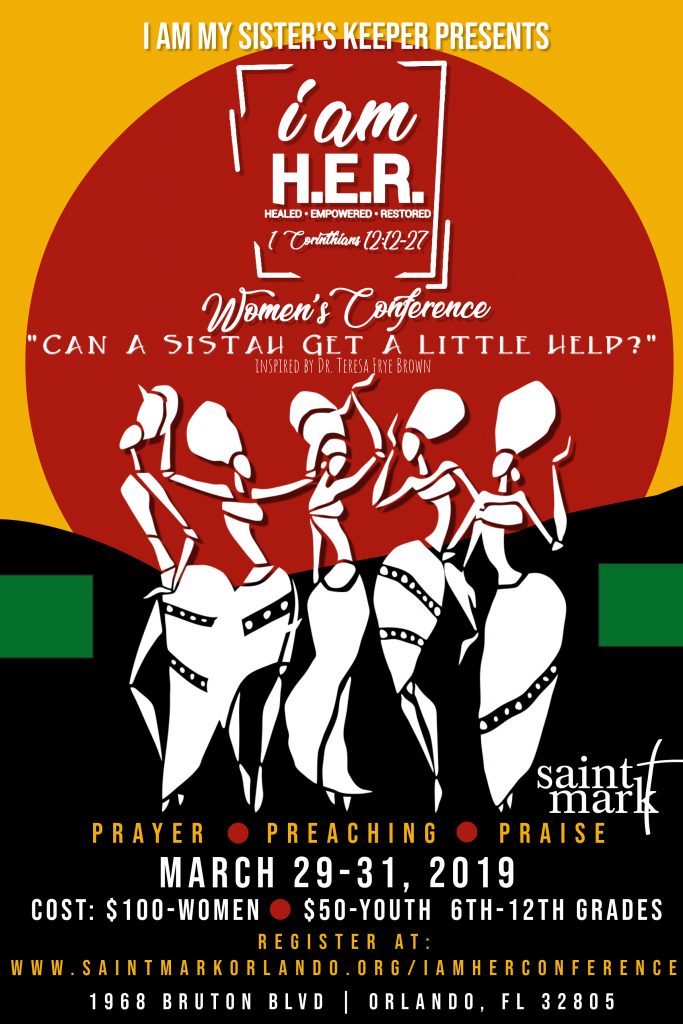 Saint Mark Women's Conference presents I AM H.E.R. (Healed, Empowered, Restored).  Can A Sistah Get A Little Help?
You won't want to miss out on this powerful event of Workshops, Word & Worship. To register you may go online: SaintMarkOrlando.org/iamherconference, tickets are $100 for Adults and $50 for youth (6th-12th grades).
During this conference you will experience prophetic insights from various speakers, dynamic workshops and impactful worship experiences to get the help you need on this journey!
Friday ,we will have a Welcome Kick-Off to get us warmed up for a powerful weekend of healing, empowerment & restoration.
Saturday, we will have workshops on issues that we face as women on a daily basis empowering with you answers to the question, Can A Sistah Get A Little Help?
And on Sunday, we will culminate our weekend with powerful preaching and a spirit-filled worship experience that will Restore us for the journey ahead.  The question is: Can A Sistah Get A Little Help?  Answer: YES! Come join us as we let go and let GOD!!!
I Am H.E.R. Women's Conference Committee